Being a foreign student is not an easy job as everyone might think. We know that it is hard to find time to cook, clean, do grocery shopping, and run all other errands at the same time that you try to make time to study, do projects, homework, and prepare for exams.
Cooking and eating well are the most important things you must take care of; however, it is also one of the things students struggle the most with. That is why we are sharing with you some easy and inexpensive recipes you can cook while studying abroad.
Pork and peanut dragon noodles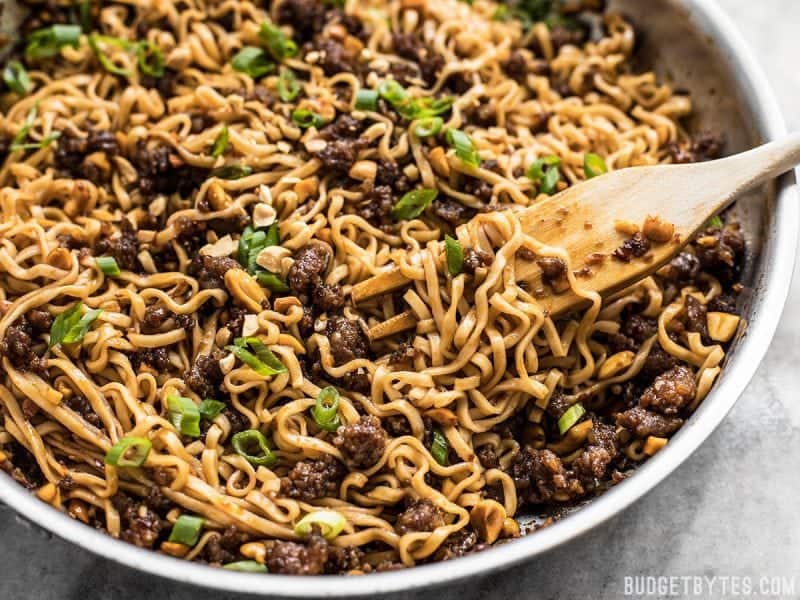 Total cost: $3.75 recipe / $1.25 serving
INGREDIENTS
DRAGON SAUCE
1/4cup chili garlic sauce ($0.53)
1/4cup soy sauce ($0.24)
1/4cup brown sugar ($0.16)
PORK AND NOODLES
1/2 ground pork* ($1.50)
6 ramen noodles ($1.00)
3green onions, sliced ($0.20)
1/4cup unsalted peanuts, chopped ($0.12)
INSTRUCTIONS
Combine the chili garlic sauce, soy sauce, and brown sugar in a bowl.
Add the ground pork to a skillet and cook over medium heat until it is fully browned*. Once browned, add the prepared dragon sauce and chopped peanuts. Allow the pork and peanuts to simmer in the sauce for another 5 minutes, or until the sauce has reduced by half.
While the pork is browning, begin boiling water for your noodles. Once boiling, add your noodles and cook according to the package directions. Drain the noodles in a colander.
Once the sauce has reduced and the noodles have drained, add the noodles to the skillet and toss until everything is combined and coated in sauce. Top with sliced green onions and serve!
Creamy tuna pasta with peas and parmesan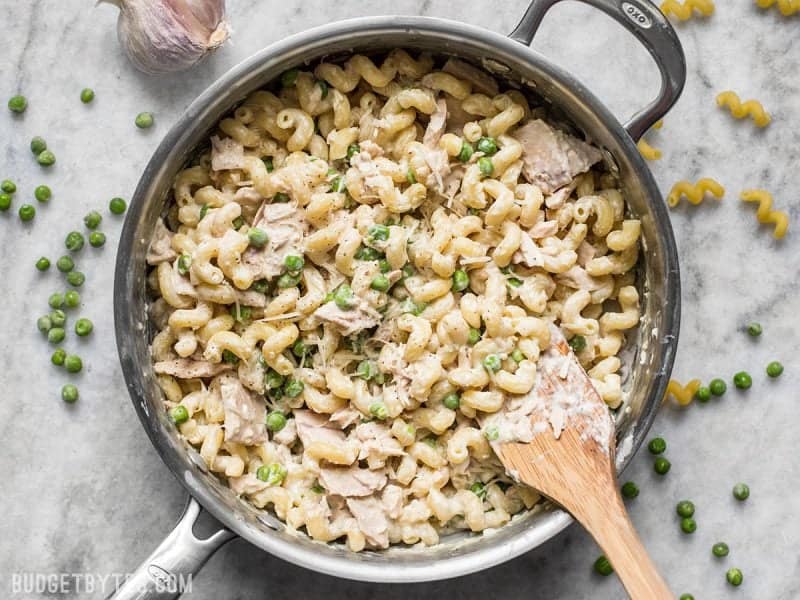 Total Cost: $6.01 recipe / $1.50 serving
INGREDIENTS
8 pasta ($0.67)
2Tbsp butter ($0.26)
2cloves garlic, minced ($0.16)
1cup frozen peas ($0.38)
1cup half and half* ($0.75)
1/2cup shredded Parmesan ($0.95)
12 can solid albacore tuna, drained ($2.79)
INSTRUCTIONS
Bring a pot of water to a boil for the pasta. Once boiling, add the pasta and continue to boil until the pasta is tender. Drain the pasta in a colander.
While the pasta is cooking, prepare the rest of the dish. Add the butter and minced garlic to a large skillet. Sauté the garlic over medium heat for about one minute, or just until it is soft and fragrant, but not browned.
Add the frozen peas and season with a pinch of salt and pepper. Sauté for a couple of minutes more, or until the peas are heated through.
Add the half and half to the skillet and allow it to come up to a simmer, stirring frequently to keep a skin from forming on the surface or the bottom from scorching. Let the half and half simmer for about 3-5 minutes, or just until it reduces slightly.
At this point, the pasta should be finished and drained. Add the drained pasta to the skillet and stir to combine. Sprinkle the Parmesan over the pasta and stir to combine again. Allow the heat to melt the Parmesan as you stir. Once melted, turn the heat off. Taste the pasta and add a pinch of salt and pepper, if needed.
Finally, add the drained tuna and fold it into the pasta. If you are using whole tuna chunks, break them up slightly as you stir. If you are using chunk light tuna that is already in small pieces, fold gently to avoid breaking the tuna up too much. Serve warm!
Hearty black bean quesadillas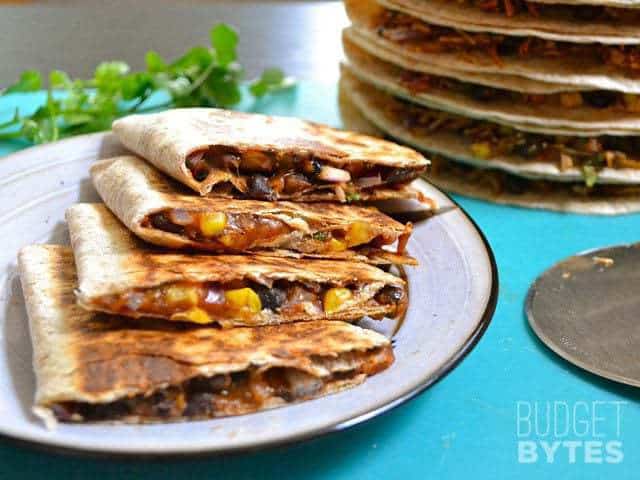 Total Cost: $6.61 recipe / $0.66 serving
INGREDIENTS
1 15 oz.can black beans** ($0.56)
1cup frozen corn kernels ($0.48)
1/2small red onion ($0.44)
1clove garlic ($0.08)
1/4bunch fresh cilantro ($0.21)
2cups shredded cheese ($2.50)
1batch taco seasoning ($0.34)
10taco sized tortillas ($2.00)
INSTRUCTIONS
Drain the can of beans and rinse lightly. Place the beans in a large bowl along with the corn (no need to thaw).
Rinse the cilantro, remove the leaves, and chop roughly. Dice the onion and mince the garlic. Add the cilantro, onion, garlic, and shredded cheese to the bowl with the beans and corn. Lastly, mix up a batch of taco seasoning and add to the bowl. Stir everything until evenly mixed.
Place a half cup of the filling on one side of each tortilla and fold over. Cook in a skillet on both sides over medium heat until brown and crispy and the cheesy filling has melted.
To freeze the quesadillas, simply fill each one and place it on a baking sheet lined with parchment paper. Place in the freezer for one hour to solidify the quesadillas and then transfer to a freezer bag. To reheat either microwave (for a soft quesadilla) or cook in a skillet on low heat (make sure to use low heat so that the filling has time to thaw and melt before the outside burns).
For more recipes click here. (https://www.budgetbytes.com/hearty-black-bean-quesadillas/#wprm-recipe-container-32876)
Don't forget to visit us on Facebook or Instagram! You can find us like @mshomestays